Customized Yoga Retreats
Yoga Inspired Vacations for Individuals or Couples or Families
Looking for a yoga retreat to recharge and connect with your true self or with your partner?
Need a yoga retreat that suits your schedule and is private for just you and your loved one? Want to take a family vacation focused on wellness?
For Yourself
Yoga vacations at Anantya are designed to inspire you to bring out the best in yourself. So, leave your daily roles and connect with yourself or your loved ones on a deeper level. Spending time in nature and Anantya's solitude is alone enough to revitalize. Add in yoga, chanting, meditation, Ayurveda massages and healthy meals and you will be looking at a much refreshed you!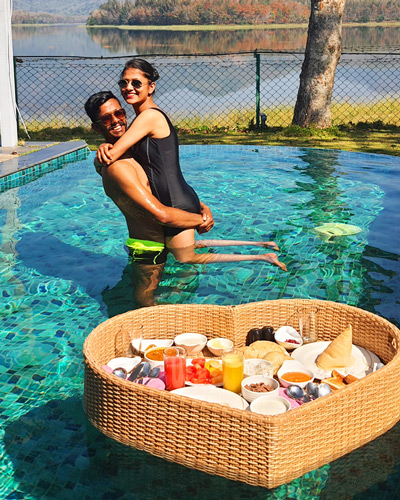 For Couples
You and your partner will enjoy the joy of practicing yoga together.
For Families
For families with children, take this opportunity to introduce your children to and give them a deeper understanding of the yogic way of life. With plenty of other engaging activities for children, a family yoga vacation at Anantya promises to have something for everyone to enjoy.
Why take a customized retreat?
Flexibility on when you want to take your vacation, and not dependent on a group or yoga teacher's schedule.
Difficulty level tailored to your stage of yoga practice, making it possible for a beginner or an advanced practitioner to take a retreat at Anantya.
Private retreat, only for you and your loved ones.
Skill level
Beginner
Intermediate
Advanced
Yoga styles
Hatha Yoga
Sivananda Yoga
SKY
What will your retreat be like?
You can tailor make your daily schedule, based on our suggestions:
Begin the day with a morning yoga session
30 minutes of meditation
Breakfast, served as a buffet
Enjoy the day reading a book, swimming in the lake or lounging by the pool. Visiting a local attraction like Padmanabhapuram Palace, Thiruvattar Temple, or Kanyakumari. Take a bicycle ride in the countryside.
Lunch, Pre-fixed Meal
In the afternoon, indulge in an Ayurveda massage therapy. Or learn to make your favourite dish with a cooking demonstration.
Evening Yoga Session
Dinner
Bedtime!